Your One-Stop Shop for
Learning Resources
Teachers Resource Store provides engaging ELA and Spanish resources, including print & digital worksheet activities and gamified learning materials. Whether you're teaching beginners or advanced learners, our materials are designed to help your students succeed.
Boost Classroom Engagement With Audio And Animated Activities
Take your lessons to the next level with our animated resources which include auditory support. Designed to captivate your students' attention, these materials bring your lessons to life. From grammar to vocabulary, we have everything you need to make learning fun.
Interactive Speaking Resources
This is a specialized listen and speak learning resource designed to boost students' conversation skills.
Featuring interactive audio dialogues, students respond within a 7-second timer, ensuring a seamless and engaging conversation practice.
This resource offers an enjoyable way for students to refine their communication skills through captivating animated stories. Click here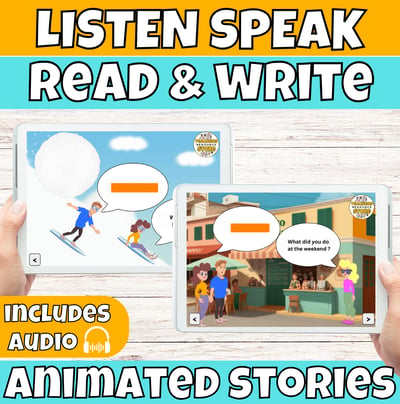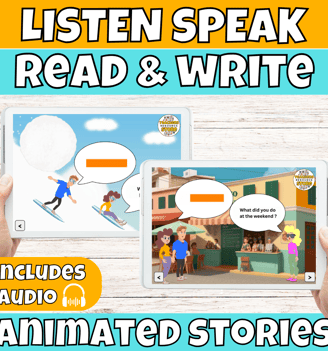 Interactive Mock Job Interviews
These Interactive speaking activities are a fantastic resource for older students looking to improve their speaking skills and gain confidence for job interviews. With the help of read along transcripts and an open ended response challenge exercise, students will become equipped to answer common interview questions with ease.